I've done dozens of album reviews for Seven Days—Vermont's alternative weekly newspaper and the leading source on all things arts and culture around the state. Below are a few of my favorites. Links to other reviews are located here.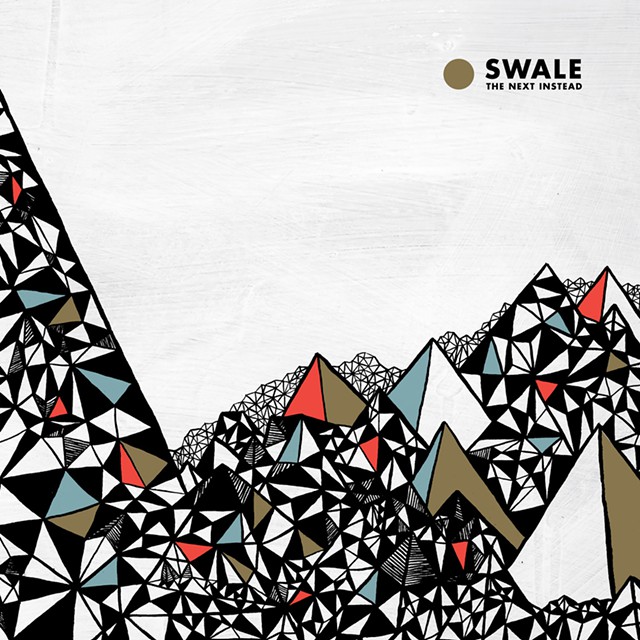 Veteran Burlington rockers Swale are back from a two-year hiatus with their second full-length album, The Next Instead. Swale's core lineup consists of drummer Jeremy Frederick and husband-and-wife members Amanda Gustafson and Eric Olsen, with occasional help from bassist Tyler Bolles. The trio has been around since 2002 and has released just two EPs — 2004's Vertigris and 2006's Waterlanding — and one full-length album, Small Arrival, in 2012. The large gaps in record releases have not harmed or altered their style, however. While the new record does feature some new sounds from guest collaborators, it still centers on the drawn-out, gloomy soundscapes and interchanging vocals that defined the band's previous efforts.
As with Swale's earlier efforts, the music on The Next Instead doesn't comfortably fit into one or even two genres. Olsen's languid, fuzzy guitar on "You Are Not the Photograph" is quintessential shoegaze, while the short and snappy "Jack Sharp" injects a minute and a half of punk. "Waiting for You" is a rare moment of indie twee. With plenty of wooing harmonies and straightforward, confessional lyrics, it's a classic crush song.
The fifth track, "Before the Night," is a brooding, hypnotic number that exemplifies the album's emotional, dark tenor. You can feel Olsen's voice reverberating into the darkness as he sings, "Before the night is over / with no sunlight we feel a little colder / we don't pick it up / we don't pull it down." Combined with Gustafson's elegant key playing and Frederick's downbeat drumming, it's a low, throbbing cry in the night.
Indeed, the album's theme seems to be waiting and contemplating the unknown ... at night. On the album-closing title track, the band delves into the imaginative, and sometimes slightly disquieting, results of late-night musings: "When the night has come and the dark is deep and wide / waiting for the world to rhyme / waiting for another line / waiting for the end of time."
Or, take "Edible #2," which opens with "Another month of text and death and broken teeth / too fucked up to fall asleep / and miles to go until we leave." The track is a litany of things gone wrong, culminating in a brutally honest line about coping mechanisms: "We stretch the night so we can dream / we swallow want and name it need." If you're in the right — or maybe more accurately, wrong — kind of mood, this damning self-awareness hits close to home.
Laced with nocturnal, spectral imagery and driven by subtle, often haunting instrumentation, The Next Instead is another solid installation in Swale's contemplative catalog.
(Self-released, digital download, LP)
Published in Seven Days // September 24, 2014
Rue Mevlana, Pop Corn // Published in Seven Days // September 23 , 2015
Burlington dance-pop outfit Rue Mevlana have been relatively quiet on the recording scene since releasing Synthetic Emotion in 2012. Save for some remixes, "The Rue Crew" — Nathan Jarvis, Marya Vallejos, Hannah Wall, Rebecca Wallace, Shelby Ferland and Allison Bannister — have largely left fans waiting. The wait is over. Earlier this month, the crew mounted a performance-art, cabaret-type show called Motley Rue — major props for that name, guys. The performance was set to songs from the band's new 12-track album, Pop Corn.
True to its name, Pop Corn sizzles and explodes with musical morsels. A patchwork of techno, disco, glam-pop and straight-up club music, Pop Corn is delicious ear candy for those who like their party tunes with a little less dubstep and a little more pop punch.
"Shooting Starlight" opens with crackling, glittering doses of synth. Delicate, sweet lyrics speak of "celestial feelings" between friends: "I close my eyes and jump through time / Just to find that you're still mine / Bound with strings that can't unwind / You're my lifeline."
Next up is the peppy disco tune "Freak Out Friday." The liberated, anthemic chorus is sure to get you in the TGIF spirit. Mischievous and cool, "That Girl Can Dance" plays like a late-night text conversation, with sassy, spoken-word lyrics set against a short, snappy beat.
"Elemental Love" briefly slows the pace. The track weaves two surprisingly well-matched instruments, violins and steel drum. It's a sugary, luxurious ditty. "Rush" turns a slightly darker corner. Sleepy, cooing vocals warn of speeding through life at the expense of living it: "We're in a world of a thousand rushes / and until it's the end of the world / I wonder what the rush is / it's gonna happen fast." The downturn is short-lived, as penultimate track "Secret Revolution" reintroduces head-bopping techno.
True to Rue Mevlana form, much of the album draws from late 1970s and early '80s glam-rock and pop influences. Bowie fans will groove to the spacey struts and androgynous vocals in "Butta Cake" and "Hermpahroditus." "We Rock Out 2 Queen" pays homage to one of the arena-rock gods' most iconic tunes with inspired chanting and this inarguable truth: "When it comes to looking fine / Mercury is master."
Yet contemporary voices also filter in. Daft Punk devotees will applaud the layered instrumentals, while lovers of female electro artists such as Marina and the Diamonds or Robyn will dig the leading-lady vocals.
Rue Mevlana's take on electro is synth-heavy and sparkling, and their latest effort delivers on earlier foundations. Energetic, quirky and pulsing, Pop Corn is sure to liven up your fall music rotation.
Pop Corn by Rue Mevlana is available at ruemevlana.bandcamp.com.
Guthrie Galileo: The Ifandbut
Producer and performer Guthrie Galileo got his start at the University of Vermont, but his mix of ambient electro and alternative R&B is rooted in California cool. After releasing a spring 2014 EP, Sauce Vapor, Galileo, now based in San Francisco, is back with a 12-track LP, The Ifandbut. Soaked with dark synth and languid beats, The Ifandbut is a noticeable departure from the electro-pop excitement of Galileo's prior effort. Gone are the moments of chill West Coast rapping and the peppy, neon production; this is a more thoughtful approach.
While most of his earlier songs looked outward, Galileo's writing on The Ifandbut is introspective. Additionally, the lack of pop-culture name-dropping that appeared on Sauce Vapor makes this LP a more serious lyrical work. Themes of youth and identity are frequent, as on "Walk With Me." Here, Galileo muses, "When being young starts to get old / We fell asleep with stains on our souls / But could we be different? / When the morning comes."
Yet some songs, such as "Bildungsroman" and "If," are simply repetitive single verses. It's unclear whether Galileo is purposefully withholding or is struggling to define his own words and feelings.
Galileo also continuously references certain lines from other tracks. "But it would be hotter to be holding you" appears on both "Cold Night" and "Hot Rush," while the lyrics for "If" and "That Irreversible" are exactly the same. It's not so much laziness as an attempt to revisit his own work, but the effect is less revolutionary when it occurs on the same album.
Instrumentally, Galileo explores the gloomier side of electro. "Deluge Ostinato" is a creaky, nails-on-chalkboards number fit for a horror movie score. "Phantom" is a standout track. With spectral, distant beats and apocalyptic lyrics, it's a darkly sophisticated journey.
That said, lighter moments on the LP hark back to Sauce Vapor. "Star Rays (Fluorescence)" and "Own Wave (Bioluminescence)" channel the glossy romance of '80s synth pop. The former is perfectly polished with sky-high harmonies, while the latter is defined by a snazzy, shaky-camera drum line.
Vocally, Galileo maintains control and knowingly fluctuates between buoyantly breathy, purposefully flat, and dark and sexy. Especially on "Cold Night," Galileo employs silky R&B undulations. Next, on "Hot Rush," Galileo slips back into the slinky, head-nodding hip-hop vibe of his earlier cuts.
The Ifandbut is distinctly less playful than Guthrie Galileo's previous EP. While the new effort is much more nuanced, cohesive and ambitious, it does demand serious emotional investment from its listeners. Accordingly, it's an ideal soundtrack for late-night dreaming and melancholic brooding.
Published in Seven Days // March 11, 2015