I recently returned from a two week writing residency at the Hambidge Center for the Creative Arts and Sciences in Rabun Gap, GA. The Hambidge Center, set on 600 acres in the Blue Ridge Mountains of Georgia near the North Carolina border, is home to a residency program for artists of all disciplines. If accepted, artists are awarded a stay of one to four weeks in an individual studio-cabin and given time, space, and freedom to pursue a creative or academic project. Hambidge also hosts public events, such as artists talks, tours of its historical buildings (recognized as National Historic Places,) and guided hikes along its seven miles of trails.
Before I dive into my residency experience, here's a little info about what a residency is.
What exactly is an artists' residency? It's sort of a "working retreat." An artist typically goes to a residency to work on a specific project. I went without a defined project in mind, and that worked fine for me and I still got a lot out of my experience. However, a residency is also a change to exchange ideas and meet other creatives, to relax, to read, to exercise- basically, it's as high or low energy as you want it to be. Some are paid (meaning you get a stipend,) some are free (meaning your meals, housing, etc are covered,) and some are a mix of paid and free (i.e. you pay something.) Hambidge was the latter. We paid a small fee that covered our meals, use of our studios and materials, etc.
Why would someone do a residency? An artist might do a residency for many personal and professional reasons. Having time away from daily work or life, space, and resources to complete a project might push some people to "get it done." Some people find that they are only able to really engage with their project in a solo environment, like a private studio. Some might enjoy the seclusion of nature and having limited internet access, like at Hambidge. Also, a residency is a great thing to put on a resume or a portfolio. It can help artists network with other artists and reach a bigger community for their work.
What kinds of artists are invited? All kinds. While I was at Hambidge, I met a fiber artist working in felting (using wet matted wool to shape a form,) a guitarist and songwriter, a fiction writer, an arts writer who was writing a book about the relationship between poetry and photography, an environmental installation artist, a photographer, a painter, a drawer/pen-and-ink artist, and a collage artist. Hambidge also hosts dancers, ceramicists, printmakers, sculptors, woodworkers, video or multimedia artists, and academics (scientists, philosophers, humanities professors, etc.)
So... onto an account of my two weeks!
I arrived on Tuesday November 24. During the two and a half hour drive from Spartanburg to Rabun Gap, I passed countless Baptist churches (many with humorous signs like "stop, drop, and roll won't work down below,") farm stands, and one-stoplight towns. Much of the drive took me down country roads. I passed through the Sumter and Chattahoochee National Forests, crossing the Georgia/South Carolina state line in the latter.
Rabun Gap is an unincorporated county sandwiched between Clayton and Dillard, GA. It's a four minute drive from the North Carolina border, and also happens to be the second rainiest location in the continental US, after the Pacific Northwest.
The Hambidge Center was established in 1934 by Mary Hambidge. She created the center as both an artist retreat and sustainable farm in memory of her husband, Jay Hambidge (1867–1924). After a brief career as a vaudeville performer in New York City, Mary discovered weaving and became part of the community of Appalachian weavers in the North Georgia mountains, where the Center is now located.
In the Center's early days, Mary employed local women, whose weavings were ultimately featured in exhibits at major museums such as the Smithsonian and MOMA. Mary eventually expanded the goal of the Center by inviting artists for extended stays. After her death in 1973, the Center evolved into a formal residency program.
Hambidge is recognized by the National Register of Historic Places as a rural historic district. The property includes: nine resident studios, a resident-built sauna, a working grist mill, an old weave shed turned into a gallery, a pottery facility, an anagama pottery kiln, a central house/office/kitchen, numerous ruins, and site-specific artwork created by residents over the years.
I pulled into Hambidge around 2:00 at the same time as two other residents, Leah and Kate. We checked in at the office with the manager, Christine, and then were shown to our respective cabins, or "studios." There are typically eight residents here at a time, and each resident has a solo studio where they live for the duration of their residency. There is usually an overlap of one week between groups. So, when I arrived with three other people, we joined a group of four who were already there. And, when three residents left on Sunday after Thanksgiving, four new ones arrived on the following Tuesday: Jen, Tommye, Norma, and Lisa.
My studio was called "Foxfire." It was built by and for Mary Hambidge's friend, Elliot Wigginton. He founded a series of publications, called Foxfire, that chronicled Appalachian mountain life and local crafts and customs.
The other studios are called: Garden, Mellinger, Brena, Fisher, Margaret, Son House (I assume after the blues singer, but neglected to ask), Cove, and Walnut Hill.
Foxfire is perfect for writers. It's one interconnected room decorated in plaid and typical rustic cabin touches. You enter into the bedroom and living room and walk straight back to the kitchen and work area (there are two desks, but I used the one facing the row of windows overlooking the porch.) The bathroom is off to the left of the kitchen and work area.
Foxfire is cozy and simple. Situated on a steep hill, it gazes down at the rest of Hambidge below, but has privacy thanks to a shroud of trees.
I left my mark on the wooden planks where residents sign their name to the legions of Foxfire residents.
Lest anyone think this part of the South is warm this time of year- trust me, Rabun Gap is almost Northern! Since it's cradled by mountains, the sun sets early and the air is at least ten degrees cooler than much of the state.
In a wood cabin with no insulation, I could definitely feel the low temperatures on these late fall nights. My first few nights, it was below freezing, and though my little gas heater was blazing, it was still chilly. But, I sort of enjoyed the wintry vibe. It made the cabin snug, and with blankets, cocoa or coffee (with a touch of whiskey,) it became a perfect mountain hideaway.
Most of my days were unstructured in the normal sense (no emailing, no 9-5, commute, etc.) But I adopted a routine of sorts. After breakfast, I usually spent mornings reading for an hour or so. I read two full books and several anthologies while I was at Hambidge.
If I didn't start the day off reading, I started it off with writing at the porch desk. The sun technically rose at 7:00 but didn't make it all the way over the mountains until about 8:00, so I would perch at the desk around that time. I would usually put in about three or four hours before stretching my legs and walking down to the Rock House for leftover lunch, or going on a little walk around the property. There were three straight days of rain from the first Sunday through the next Wednesday morning, so I didn't really leave Foxfire on those days until dinnertime.
At 6:00 each night Tuesdays through Fridays, residents gather in the Rock House for communal dinner. This is the only thing required of residents. The rest of your time is up to you. Group dinners are intended to bring residents together for a meal and conversation, whether about projects or just life in general. I looked forward to these dinners as a chance to step out of my own head and relax with newfound friends. (And...since Hambidge has limited internet connectivity, the Rock House is the only place on the property with wi-fi, so we all usually checked our email at night.)
I happened to be at Hambidge during Thanksgiving, so our group meals were a little different. The first week, we only gathered on Tuesday and Wednesday, and then four nights the next week (the typical Tuesday-Friday.) However, the operations manager Christine came in on Thanksgiving day, just two days after I'd arrived, and cooked all of us a huge Thanksgiving meal so we would be enjoy the holiday and have leftovers for the five days that the chef was off-duty. It was my first Thanksgiving away from my family or friends. But, it was special in a different way. We had all just met (Leah, Kate, Scott, Beth, - two other residents didn't join us because they had to leave for family emergencies.) But we all bonded fairly quickly, finding inside jokes and stories and learning about each other. It was a unique Thanksgiving, to be with people who were essentially strangers, but I found it to be sort of refreshing.
Another part of Hambidge that I found restorative was the array of hiking and nature on the property. With 600 acres, and 7 miles of hiking trails, there was a fair bit to explore. Below are some photos of my walks along Betty's Creek or in the forest. There are numerous tiny waterfalls, old structures, and gorgeous mountain vistas.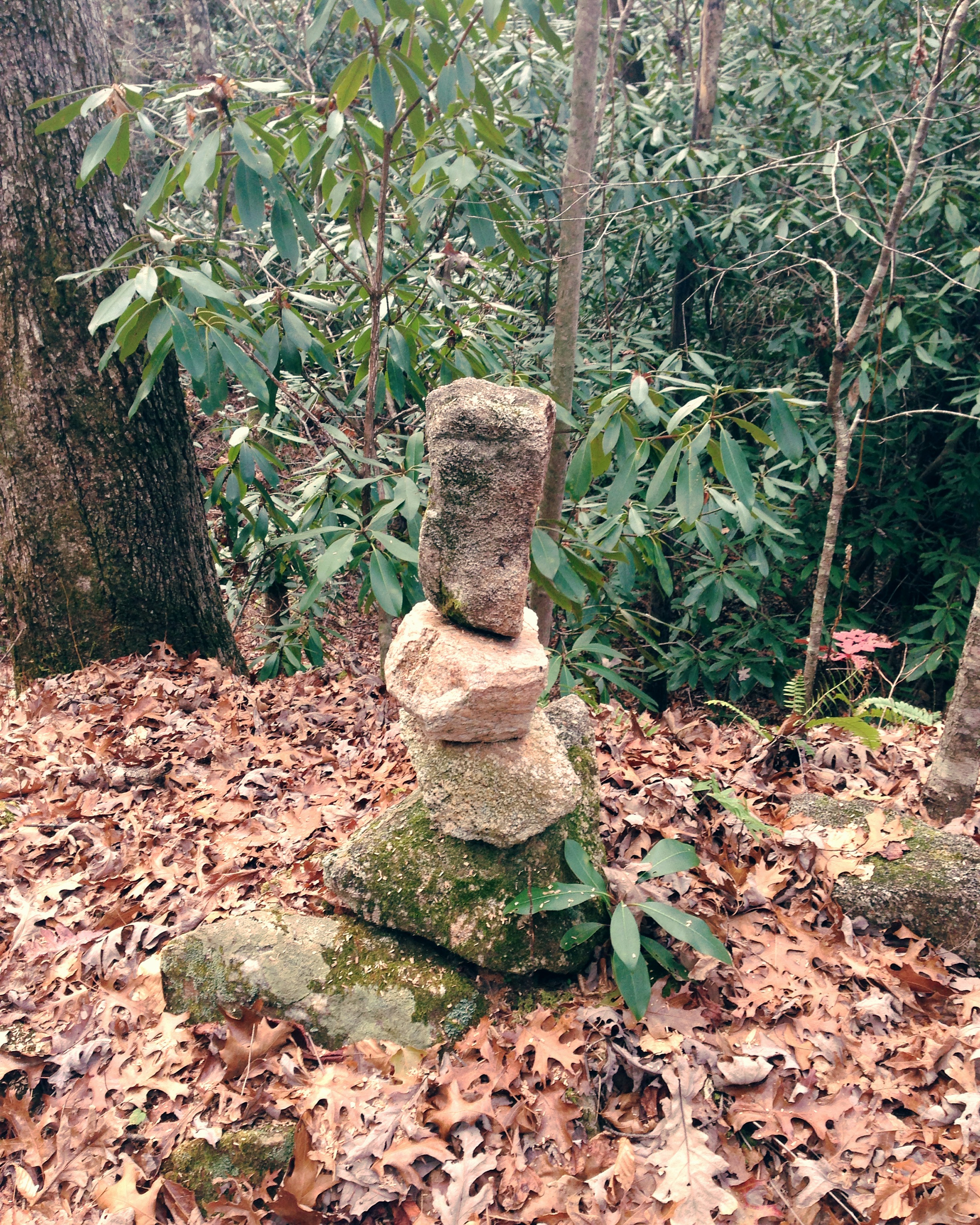 One particularly incredible feature at Hambidge is the old silo. Once used for grain processing in Hambidge's farm days, it now sits abandoned. Until two residents, Rae Long and Martha Whittington, collaborated to turn it into a living art installation called I Am Silo.
Rae Long is a Norwegian composer, musician, and instrumentalist. Martha Whittington is a US based sculptor. Long composed the music, and Whittington created the physical installation in the silo. Together, they created a private music experience.
The visitor pokes his or her head into the opening of the silo, where the grain would have filtered out when in use. The instrumental music is played from above and surrounds the visitor.
It is a complete sensory experience. Sight: the sky, reflected in rainwater that collects in the bottom of the silo, and visible in brilliant blue above. Hearing: the music, which swells up the walls of the silo. Smell: old rainwater, moss, mildew. Touch: rough concrete on which the visitor's knees rest, and the cold metal grasped by hands- a position of prayer.
The music recalls the passage of time, the life journey we all take. It is an electric, elemental experience.
The day before I left, a group of us also visited the Barker's Creek Gristmill a few miles down Betty's Creek Road. Mary Hambidge built the gristmill in the 1930s and it has been used by local farmers since. It replaced a 19th Century mill that was farther upstream.
Today, Hambidge operates it on the first weekend of each month. Stone-ground cornmeal and grits are available for cash purchase ($5 for a two pound bag; I scooped up one of each.)
So, what did I accomplish at Hambidge?
I came to Hambidge without a specific project proposal in mind, like some of the other residents. I had a general idea of what I wanted to work on and what forms (poems and non-fiction.)
I completed ten new poems, tinkered with five or six poems in progress, and drafted two non-fiction pieces. I hope to publish a chapbook (small collection of poems) someday in the semi-near future...and my work at Hambidge definitely helped me feel productive towards that goal.
I was also able to read. That sounds very simple, but in regular life, it can be hard to find time to sit and read a physical book. To set aside the phone, the computer, and all the digital distraction and really dig into a book. It was amazing to read for fun again, like one does as a child. I read a memoir, a book about the history of trees in America (oddly fascinating for such a specific subject,) several poetry anthologies, and started reading a travel ethnography.
I have rarely been a reader or student of fiction. I've always preferred poetry or creative non-fiction. But at Hambidge I found myself writing (or more accurately, trying to write) fiction. Maybe it was the environment and the isolation, forcing my thoughts in different directions, forcing me to think in other ways. Snippets of stories kept appearing. Scenes, images, conversations.
I was unable to really finish any stories that I started. I think my mind works more in small slices rather than long arcs, which is why poetry comes more easily than stories. But it was a good exercise for my brain.
Hambidge was a gift of time, space, and ideas. I would encourage anyone who has an artistic craft to apply for a writing residency. It can help orient or focus your work, boost your creativity, and just give you room to breathe. Thank you Hambidge! I'll carry this experience with me, and I know it will emerge throughout my life in ways now unknown.