First Impressions
The journey from Denver had been long but breathtaking. The train wound through tight mountain passes and towering canyons, nearly 200 miles west through the Colorado country. It was the first day of May, but winter still blustered, burying the Front Range in snow. Temperatures rose and snowpack melted as the train carried us to the Western Slope. After pulling into Glenwood Springs, I traded the train for the car, heading further southwest. 71 miles later, in the heart of the North Fork Valley, we turned off Highway 133. Crossing the North Fork Gunnison River, we bumped down the main road into town. It was a gray Sunday evening, and Paonia was still.
I arrived at Elsewhere Studios, where I would be living for two months, and was given a brief overview (orientation was to follow the next day.) I quickly unpacked (meaning, threw my stuff down) because I was jonesing for a bite to eat and a beer to unwind from the day.
Lo and behold: there is a brewery in town, Revolution Brewing. I went because 1) It was Sunday and nothing else was open 2) They supposedly served food 3) It was their 8th anniversary party and 4) Beer. Which really means you can skip reasons 1-3.
What a joyful discovery this was. A taco truck, outdoor patio, live band, several great beers crafted right in town, and what looked like half the population of Paonia out on a Sunday eve. I ordered a Colorado Red Ale and two tacos and settled in on the patio. Before long, I was chatting with locals- and some fellow newcomers- and feeling right at home. I called it an early night around 9:00, but my adventures were soon to continue.
The North Fork Gunnison River, a tributary of the larger Gunnison River, forms northwest of town, in the mountains of Gunnison County. It travels southwest, hugging highway 133. Paonia is situated between the towns of Somerset to the North and Hotchkiss to the South on 133.
Paonia rests at the foot of Mount Lamborn (11,396 feet) in the North Fork Valley of Delta County. The area was first explored in 1853 by Captain John W. Gunnison of the United States Army. Gunnison was sent to locate a suitable pass through the Rocky Mountains for topographical engineers.
Until then, the Ute Indians had lived in the Valley. As is common in other histories of the west, the native people of this area were stripped of their land and customs. The federal government had been trying to persuade the Ute to become farmers and to assimilate into US culture.
Nathan Meeker was the US Agent at the White River Indian Agency in Western Colorado. Meeker had been carrying out the "reforms" at the hand of the government. Complicating matters for the Ute, various settlers and politicians had also made claims to their lands.
Things came to a head in September 1879 after Meeker ordered the plowing of horse land and pasture, which the Ute needed. They also considered the horse to be signs of status, so this action further robbed them of their material and cultural wealth. Meeker had it out with a Ute chief and then wired a request for federal assistance. About 150-200 soldiers arrived and were peacefully greeted by the Ute about 50 miles out, but promptly ignored them and pressed on into Indian territory.
However, the Ute attacked Meeker and ten of his employees back at their headquarters before the soldiers could arrive. The Ute also took some women and children as hostages. Ute warriors and federal forces then collided over a days-long battle.
Ultimately, the uprising was squashed, but many were dead on both sides. Congress passed the Ute Removal Act in retaliation. The act denied the Ute 12 million acres of land that had been previously guaranteed (and, of course, had been theirs to begin with.) The federal government closed the Ute Indian Reservation in 1880, and one year later the Ute people were forcibly relocated to the then Utah territory. The incident, called the Meeker Massacre, is considered the last real Indian uprising in the West, spelling the end of centuries of Indian culture- and of the end of the US effort to conquer and settle the west. It had effectively been conquered.
Against this bloody and broken history is the peaceful backdrop of the North Fork Valley. The valley is very fertile, enjoying a fairly temperate climate and abundant rainfall. Orchards and vineyards are scattered throughout the valley, providing peaches, pears, apples, plums, and cherries, plus the requisite ciders, jams, and jellies. The main industry, however, has been coal mining. With the recent shuttering of Elk Creek Mine in Somerset, just a few minutes' drive from Paonia, the coal industry- and the local economy- is in jeopardy.
Though the surrounding mountains reach 11,000 feet, Paonia itself sits at a mere 5,674 feet. Paonia is a town of approximately 1,400 people, a figure that hasn't changed much since its founding. The name "Paonia" is a corruption of "peony." The town website states:
"The peony roots that Samuel Wade brought with him to Colorado in 1881 inspired him to submit the Latin name for peony, "Paeonia" as a town name. The post office wouldn't allow the extra vowel, so Paeonia became Paonia."
Beyond the naming anecdote, there are many oddities about Paonia. I'm sure I haven't uncovered them all yet, but one that sticks out is the number of churches. Folklore says that Paonia once held the Guinness Book of World Records for the most churches per capita. With just over 1,400 residents and seven churches (I've been told there are between 10 and 15, but I've only seen eight so far) it's not hard to believe. Granted, I've only met one person who attends church regularly, so I don't know how all these ministers and priests are staying in business!
Paonia, surprisingly, supports a number of artistic programs and organizations. Here are just a few of the goings-on:
Blue Sage Center for the Arts - The art gallery, dance performance venue, yoga space, etc. A hodgepodge of things.
Paradise Theater- The town's only movie theater that seems to show one movie at a time, but also hosts musicals, bands, and galas
KVNF Radio Station- KVNF keeps a news pulse on the North Fork Valley and also has an open DJ policy: anyone in the community can become a DJ and host their own show after some training
Paonia Film Festival- Apparently an actual red carpet was used this year and the event was black tie??
Paonia Fashion Show- I've been told this is hands down the biggest event of the year. Looking forward to it May 20-21!
Pickin in the Park - A weekly music festival in the town park during the month of August.
Cherry Days- Annual cherry festival and small town parade
Mountain Harvest Festival- This festival celebrates all types of things: local art, produce, crafts, etc
Not to mention the various pottery and art studios scattered through the valley
I've also been enjoying the food & bev scene. The brewery was a great start, but I've been pleased with the two food trucks at the end of downtown (Tacos on Monday & Tuesday, Thai on Wednesday & Thursday), the Backcountry Bistro (coffee, pastries, light snacks), Louies' (pizza and beer), Renew (part bike shop, part gift store, part coffee and juice bar), Ollie's (ice cream!), and, naturally, the dive bar: Waldo's, which happens to be next to Elsewhere...
So, what is Elsewhere?
Elsewhere is just one component of Paonia's a vibrant creative community. Elsewhere is an artists' residency program, similar to what I did at Hambidge this fall. Artists of all mediums can apply for one to six month residencies to complete their projects. Elsewhere's website states, "We are open to emerging, mid career, and professional visual artists, musicians, performance artists, and writers."
Elsewhere began physically in 1910, when the physical structure was used for the town's General Electric building. Electricity was generated by a water wheel in the Paonia irrigation ditch, which cuts through town.
Elsewhere began creatively and energetically in 2006. The dynamic duo of Maya and Willow Good took on the task of rebuilding and updating the facilities. The building was gutted and new windows, insulation, electric and plumbing were added, plus extensive structural support and a new roof. The Paonia community worked hand in hand with Maya and Willow to make it happen.
The two went their separate ways for a bit, but Maya later returned to finish the job. They decided to start an Artist in Residency program, with the help of Willow's mother, Karen, who moved to Paonia. The Artist in Residency Program began in 2010. Elsewhere became a nonprofit in 2014 and is currently working on renovating the grounds and expanding the residency offerings.
Terence McKenna- writer, philosopher, and, uh, psychedelic drug "expert"/ shaman/guru- was born and raised in Paonia. Rumor has it he spent time in the Elsewhere building in the 60's. Needless to say, Elsewhere certainly has a 60s vibe.
The house is bedecked in various tapestries and made comfortable by lots of cushions and seating areas. Previous residents have left everything from crystals, to incense, to sculptures and ceramic ware, to religious candles. Books abound on subjects from African art, to meditation, to printmaking.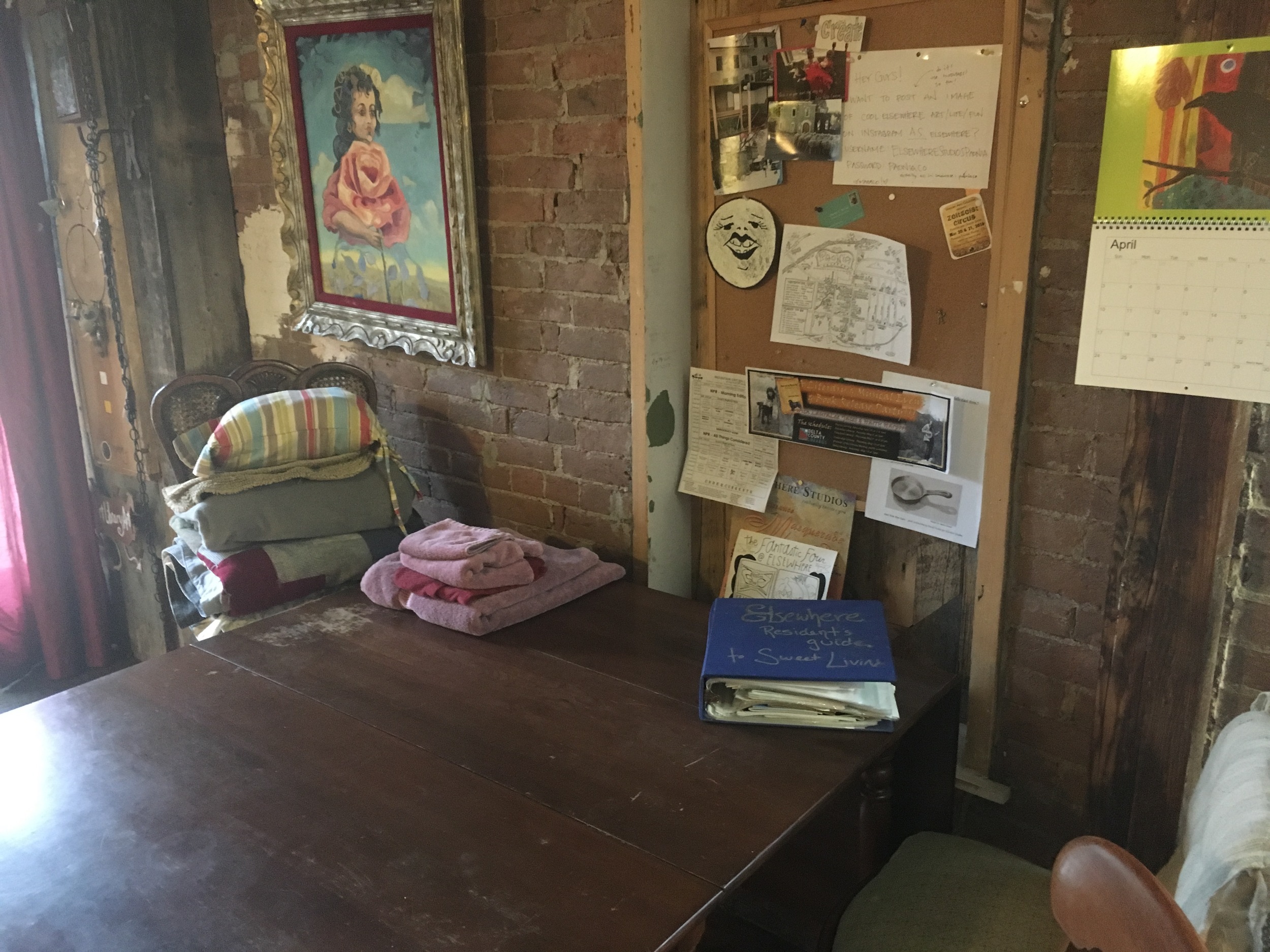 There are typically four residents at one time for the four rooms: the Suite (upstairs, private room and bathroom) the Loft (ground level private room with lofted bed, shares downstairs bathroom), the Basement (sub-level private kitchen, bathroom, and room, plus the clay studio) and the Gingerbread House (private cabin off the main house, no bathroom so it shares with the main house.) I am in the Loft Room, and it is perfectly cozy.
I have three fellow residents for the month of May and will meet new faces in June also. This month, I am getting to know writers Patrice La Vigne and Janet Thornburg, as well as mixed-media illustrator and fashion designer Elyse-Krista AnnaMarie Mische. They are three awesome and unique ladies from all over the country who have each accomplished some impressive and interesting things.
Janet comes from San Francisco, and was a teacher, playwright, and stage performer for many years. She has lots of interesting stories about the cultural changes in 1960s America, but she has also traveled all over the world! She even spent time in the Peace Corps in Tunisia in her 20s, when the program was first starting up. She's working on a novel while at Elsewhere and also writes short stories.
Elyse is from Minnesota and now lives in Wisconsin. She works with all kinds of materials in her mixed-media illustrations, including pen and ink, paint, and fabrics. She is at Elsewhere on a grant from the National Endowment for the Arts (NEA.) Her work is so whimsical and lovely. I am drawn to the geometric patterns she uses and how she depicts the body. I can't wait to see her work paraded in the fashion show in a few weeks!
Patrice is a freelance writer who lives a nomadic, adventurous lifestyle with her husband, Justin. By traveling from job to job and place to place, they are able to spend a lot of time hiking the backcountry while still working seasonally in hospitality and tourism, as well as outdoor lifestyle and education. They've thru-hiked the Appalachian Trail and the Te Ararora trail (which traverses the length of New Zealand, about 2000 miles.) To say I am envious is an understatement! Patrice is working on a book about the New Zealand hike, which I would definitely love to read.
I'm so thankful to be living with, creating, and sharing the same space with these inspiring ladies!
Elsewhere Staff
The Elsewhere staff is equally interesting and inspiring. Besides the old guard of Karen, who does development and grant work; Willow, the Artistic Director who does a number of things; and Maya architect and handyman extraordinaire, there is Sharon, the Executive Director. Sharon keeps the residency program running smoothly, puts out a million fires, and does it with ease. There are also a few Paonians (like Spencer from the Blue Sage, who picked me up at the train station) who serve on the Board of Directors, help out, hang out, and just generally are available to help and support residents.
And of course, the most important member of the Elsewhere family (or so he thinks) is Tomatoes, the house cat. He has taken to sleeping in my bed during the day, hunting or prowling outside at night, and then joining me in the loft in the wee hours of the morning. Tomatoes is a heart-stealer and very affectionate. We've certainly bonded and he's a great companion. Granted, he brought a dead mouse into my bed one morning, then took it under my desk and proceeded to eat it nose to tail. So, you might say he was in the "cat house" for that one...
It's no exaggeration to say Paonia has won me over already. From the sweeping vistas, to the entrepreneurial and creative spirit, to the availability of good food and drink, this mountain town has it all. I'm beyond happy to call it my home, even for a short while.
To get you in the Paonia and Colorado spirit, here's a little Western playlist for your listening pleasure: